What's In Your Student's Tour?
---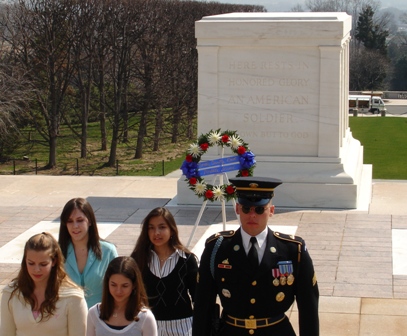 EXCITING TOUR DESTINATIONS
Consulting with your child's teacher, CTA custom designs the tour to include important and relevant points of interest which will reinforce classroom lessons. In Washington, DC, we are often able to arrange special VIP opportunities that may include a visit inside the White House, a meeting with your member of the US Congress, or participation in a special event such as a wreath laying ceremony at the Arlington National Cemetery Tomb of the Unknowns.
DELUXE ACCOMMODATIONS
CTA selects accommodations that meet our stringent quality standards including interior-only corridors and no accessible balconies. Each night private security officers patrol student hallways ensuring maximum safety. Roommates are assigned by school-authorized personnel (not by CTA) with an emphasis on an appropriate mix of personalities and friends.
FUN & DELICIOUS MEALS
Meal choices are an important part of the tour plan. Breakfast options include a full hot and cold buffet unless continental-style service is noted on the itinerary. Lunch and dinner sites feature meals at popular restaurants offering buffet or menu-specific plated selections, including vegetarian options, and always with students in mind. Special dietary needs can most always be accommodated, however parents are urged to contact the provider directly for ingredient clarification (CTA does provide restaurant phone numbers upon request).
EVENING ACTIVITIES
A typical CTA tour experience consists of a full schedule of events from morning wake-up though evening curfew. Chaperoned evening activities may include a Dinner dance cruise, Night Light Tour, theater, laser show, team-building challenge, DJ dance, IMAX film, Student Jeopardy game show or a Make-Your Own ice cream sundae party. Wow!
SUPERIOR MOTORCOACH TRANSPORTATION
Our strict standards ensure your child of safe, comfortable and video-equipped motor coach transportation. Rest assured that the bus company we select carries a minimum $5 million liability policy plus a favorable Federal Motor Carrier safety rating. The CTA trip orientation meeting includes information on the motor coach company, their safety rating and their most recent two-year performance records as compared to the national average. We take great care in providing top-quality motorcoaches. To view the latest US Government safety data for a specific bus company, visit the
Federal Motor Carrier website
.
TRIP DIRECTORS
CTA student travelers connect with their Trip Director, each one a Certified Teacher with complete background clearance. These mature men and women are exceptional professional educators with more than twenty years experience. One Trip Director is assigned to every bus providing knowledge and insight for each location as well as fun and interesting anecdotes, trivia questions and quizzes to keep the students focused and engaged. Go to our
Trip Director selection page
to view our comprehensive qualification, training and background screening requirements.